People Googling Trump Have Very Different Music Tastes Than People Googling Bernie Sanders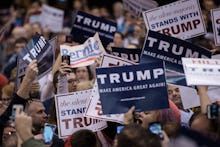 Pundits go back and forth week by week trying to decide whether or not Donald Trump and Bernie Sanders are two sides of the same coin, or two coins from entirely different currencies. As the race goes on, one thing becoming more and more clear is that the voters following the two could not be more different. They come from different backgrounds, think differently on the issues and, it seems, listen to very different music.
Read more: These 5 Charts Show Who Your Favorite Rapper's Favorite Rapper Is
Data provided by Google Trends reveals which musical artists users Googling Hilary Clinton, Donald Trump and Bernie Sanders frequently searched for over the week of March 24-31.
Some of the correlations are easy to explain. Others — like Donald Trump seekers also searching for music by outspoken feminist Taylor Swift — are not. It's all proof that whatever happens between now and November, there will likely be a very different soundtrack at campaign parties for each candidate.
Donald Trump
It seems those searching for news on Trump are also excited about the Guns N' Roses' reunion happening at Coachella this year. They're also more likely to have tuned in to the Academy of Country Music Awards Sunday to watch Blake Shelton perform for his ex, Miranda Lambert.
Number-one search Snoop Dogg, it must be noted, once delivered an epic burn during a 2011 roast for Donald Trump. "Donald says he wants to run for President and move on into the White House," he said. "Why not? It wouldn't be the first time you pushed a black family out of their home."
Hilary Clinton
Taylor Swift, outspoken feminist and architect of the most feared squad in pop, tops Hilary's list of most-searched-for artists.
In fact, the entirety of Clinton's top five are notable female artists, from icon Beyoncé to rap queen Nicki Minaj. Some of those Beyoncé searches may have come from Clinton herself — she's a notable student of the school of 'Yoncé.
"You see her on TV, it's impressive. You see her in person, you're just stunned," Clinton said at a December rally. "I want to be as good a president as Beyoncé is a performer."
Bernie Sanders
Despite Sanders having a predominantly white voter base, people who search his name gravitate towards black rappers. Killer Mike, who's been acting as Sanders' hip-hop emissary, speaking at several of his rallies, appropriately tops the list. Kanye West has to settle for number two — something he hasn't exactly handled with grace in the past.