8 Chrissy Teigen Instagram Posts That Show She's the Down-to-Earth Celebrity We Need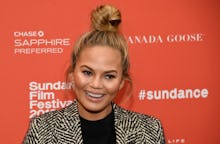 Being down-to-earth isn't a honed skill so much as it is a trait, and if you inherently have it, that's great. For better or worse, celebrities live under a microscope, and every facet of their lives is speculated on. It's a lifestyle idolized by a multitude of fans who want to live or mimic their reality (hence the success of reality shows). 
Fame can change people. That said, there are some notable celebrities who appear authentic as can be: Take Chrissy Teigen. The breakout Sports Illustrated model is, fittingly, a model example of how to maintain celebrity status while being an awesome, relatable individual. This is best exemplified through Teigen's Instagram photos, which range from the hilarious to the mundane and everything in between, with husband John Legend. Here are eight of her best posts.
Read more: Chrissy Teigen Has the Best Response to Critics Who Question Her Marital Status
1. Interestingly random dance moves 
2. A shopping haul any college kid can appreciate
3. Welcoming a new friend to the neighborhood 
4. Life goals 
5. Damn Chrissy, back at it again with the Shake Shack
6. Friends taking a Tinder break during a run — satisfying a different kind of thirst 
7. Filling in for the weather report — and having poor spatial awareness 
8. Relationship goals