Bernie Sanders' Supporters Protested Outside CNN — but You May Have Missed It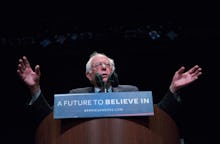 Get the five stories that will challenge you to rethink the world by signing up for MicCheck Daily.
More than 1,000 Bernie Sanders supporters rallied outside CNN's Los Angeles headquarters Sunday to protest the network's alleged lack of Sanders coverage throughout the campaign. 
The protesters made a newsworthy scene outside the CNN building. 
They dubbed the rally #OccupyCNN.
But you probably didn't hear about it.
Because inside the building, CNN was covering an upcoming travel show instead of the protest.
And unofficially renamed CNN the "Clinton News Network."
Sanders supporters also recently spread the hashtag #BernieMadeMeWhite to protest the media's supposed whitewashing of Sanders supporters — like when the Washington Post's Philip Bump said Sanders only won the Hawaii, Alaska and Washington primaries because those constituencies are mostly white.
Read more: Bernie Sanders Supporters Called Out Media Whitewashing With #BernieMadeMeWhite