Selena Gomez Is Developing a "Latina 'Empire'" for Freeform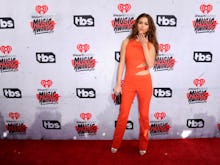 Nicki Minaj is getting some famous company over on Freeform.
According to a Deadline report, Selena Gomez is working with the network formerly known as ABC Family to develop "a Latina Empire." The show, still without a name in these early stages of development, will be based on the real life of 18-year-old Ana Cobarrubias.
Read more: Selena Gomez Is Now the Most Followed Person on Instagram, Beating Out BFF Taylor Swift
Gomez's partner in the project, producer Aaron Kaplan, saw Cobarrubias speak at an award dinner in Los Angeles in November. According to Deadline, Cobarrubias "captivated the audience, getting a standing ovation for her speech about making a difference in her poor East LA neighborhood and her determination to defy society's expectations for someone like her by being a strong and confident young woman."
Inspired by her story, Kaplan pitched to Freeform and brought Gomez on as a producer — and Cobarrubias on as a consultant. The series will follow an 18-year-old Latina who lives in a low-income part of town, but has dreams that extend far beyond her neighborhood.
Kaplan is also a producer on Minaj's semibiographical series Nicki, also premiering on Freeform. There's a bit of a tradition of superstars working as producers on Freeform series: Jennifer Lopez serves as an executive producer of The Fosters, now in its fourth season.
No estimated air date has been announced for the project.