Tax Day 2016 Extension: How to Get More Time on Your Taxes When You Just Can't Be Bothered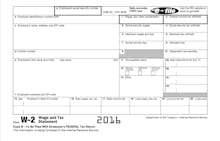 Every year, people scramble to find their W-2s and the nearest accountant in order to file their federal and state taxes by April 15. However, tax day 2016 (as well as the next two years) will be a little later than usual. The typical April 15 deadline has been moved to the following Monday, April 18 because the holiday, Emancipation Day falls on Saturday, April 16, but will be observed in Washington, D.C., on the preceding business day.
For 2017 and 2018, tax day will also be later because April 15 will fall on a weekend (i.e., a non-business day).
If for some reason, this year's extra three days isn't sufficient, you do have options. Unfortunately, said options also involve filling out a bunch of forms.
Read more: There's One Thing You Need to Know When Filing Your Taxes
According to the IRS' official website, most individuals can file a tax extension by filling out Form 4868. If you are in the military, serving in a combat zone or "qualified hazardous duty" area, or if you're living overseas, special rules may apply to you.
Regardless, you must file the extension by April 18 (unless you live in Maine or Massachusetts, in which case you have yet another day, with a deadline of April 19). Luckily, filing for an extension can be done online.