The Average Amount of Student Loan Debt in the U.S. Is $35,000 — The Cost of a Tesla 3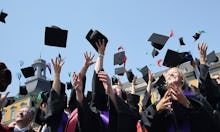 The most recent class of U.S. college graduates left school with the highest average student loan debt in history, the Wall Street Journal reported back in May. The class of 2015 graduated with an average of "a little more than $35,000" of debt per student, the Journal reported, citing numbers from Edvisors, which analyzes government data.
Read: Federal Agents With Automatic Weapons Arrested This Man for Not Paying His Student Loans
That means that, on average, U.S. college graduates owe back the equivalent of a new Tesla 3, which starts at $35,000, or you could splurge on 4,157 movie tickets or get laser eye surgery twice (on both eyes). Basically, $35,000 is a lot of moolah.
Not only is the average amount of student debt per graduate higher than it's ever been, more college students overall are taking out loans, the Wall Street Journal reported. "Almost 71% of bachelor's degree recipients will graduate with a student loan, compared with less than half two decades ago and about 64% 10 years ago."
In 2015, CNN reported that total "student debt is now over $1 trillion." According to researchers at Goldman Sachs, "2015 graduates won't break even until age 31," and, with debt increasing by the year, "2030 graduates won't break even until age 33." 
It's not clear what the solution will be, but the problem is increasingly hard to ignore. After all, in 2015, average student loan debt was the equivalent of a fancy electric car, how much time until Americans are graduating with a house's worth in student debt?