The 10 Useless Things You Can Cut From Your Wedding Budget Right Now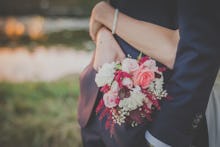 If you're planning a wedding, you want it to be special — but you shouldn't have to go in debt to make it happen. Unfortunately, that seems to be the case for many couples: According to The Knot, the average wedding in the United States now costs more than $32,000. 
So how can you make your big day seem priceless without blowing the bank? We turned to three wedding planners and experts for advice you can put in practice today.
"The best way to approach your budget is to identify your top priorities, the things that you want to remember the most about your wedding, and dedicate a large portion of your budget to these things," Alea Stanley, owner of wedding planning company Sparkles & Lace Events in Illinois, said in a phone interview. "If you really want to have great food, you can go a little lighter on decor."
Depending on your priorities, here are some items you can cross off your list to cut costs:
1. Paper save the dates and extravagant wedding invitations
Save the dates, or pre-wedding invitations, might be "fun to send out, but everyone keeps track of events and appointments virtually now," former Inside Weddings editor and Mic contributor Erin Migdol said in an email interview. "Those little cards are probably going to get lost between now and the wedding. This is a great opportunity to choose a fun e-card and skip the expense of mailing save the dates."
Can't bear to do away with paper invites? There are ways to make them more affordable. 
"A lot of money is spent on stationary," Candice Pereira, a wedding planner and blogger, said in an email interview. "You can choose simple printing processes and paper types" that are just as beautiful, Pereira says. 
"Guests are just excited to be invited," Migdol added. "Cheap invitations work just as well as the ones lined with gold foil. If the majority of your guests are tech-savvy, you could even consider doing evites."
2. Elaborate decor and expensive place settings
"95% of couples at the end of the day do not care or even really remember all the little decor details," Migdol said. "They remember how it felt to dance with their friends and look in their partner's eyes and say their vows. Any little decor element that doesn't contribute to those memories is really, really unnecessary."
Don't feel guilty about skipping things like place cards, fancy aisle runners, chair covers, or little handwritten signs directing everyone to the ceremony. Instead, "choose a venue that is beautiful as it is, and lends itself well to the chosen look," Pereira said.
When it comes to elements like linens and place settings, "the basics mixed with nice flowers can look just as good as the pricey stuff," Migdol said. "Guests will not be able to tell the difference, or care."
3. Extra guests or plus ones
"The only universal way to reduce the cost of a wedding is your guest list," Stanley said. "More guests automatically equals more expenses."
This task can seem "difficult but not impossible," Pereira said. If you're not willing to cross any of your own friends off the list, consider reducing the number of guests you give plus ones. 
4. Multiple locations for wedding-related events
"Have all your events in one hotel and have the guests stay there too — you'll save on the cost of transportation," Pereira said. This is especially cost-cutting if you're planning a destination wedding. 
5. Wedding favors
While precious mason jars filled with homemade pastries and jams are now in favor, they're unnecessary expenses that your guests probably won't even remember in the first place. "Guests will not feel slighted if you don't send them home with a monogrammed picture frame," Migdol said. 
6. Imported flowers
"Use local florists," Pereira said. 
7. Peak wedding months or days
Do you really want to be the tenth wedding on your timeline on a summer Saturday anyways? Consider off-peak months and mid-week ceremonies, Pereira advised. 
8. The wedding cake
"Lots of people out there don't [like cake]!" Migdol said. "Couples should feel empowered to cut anything they don't feel represents who they are, and doesn't make them happy." 
Love cake, but still want to cut corners? Cupcakes can be a way cheaper — and just as delicious — alternative. 
9. Fancy DIY projects
"This can be really hard for brides who have planned their whole weddings on Pinterest, but those DIY projects can be more trouble than they're worth," Migdol said. "The costs of buying all the supplies can really add up, and they can be a real time suck."
If you're tempted by cute DIY place cards or cupcakes, take a step back and figure out if the project is necessary, and if it would be easier or less expensive to just outsource it to a vendor. 
10. A limitless open bar
"Alcohol is definitely not an area to neglect, but you don't have to do an open bar and champagne toast for people to have a good time," Migdol said. "So many couples are doing a signature cocktail or two, and beer and wine. You don't need to provide an insane amount of alcohol if it's going to sink your budget."
The only thing these experts seem to agree you shouldn't cut from your budget? An experienced wedding planner and photographer. After all, everyone could use some extra help organizing their wedding, and at the end of the day all you have left are the photos.
"Couples have started looking at weddings as an expression of who they are as a couple, rather than a 'rite of passage' they have to go through that contains all these traditions they need to follow," says Migdol. "If couples don't think a particular wedding element is really important to them... just don't have it."