Melissa McCarthy's Lip Sync Battle With Jimmy Fallon Is Why You Got Out of Bed Today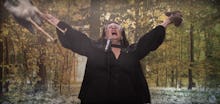 You probably think you've seen a good "Lip Sync Battle" — viral classics from Emma Stone, Paul Rudd and Joseph Gordon-Levitt — but you've never seen one like Melissa McCarthy's. 
McCarthy redefined what it means to battle the host in a lip syncing contest on Monday night's episode of the Tonight Show Starring Jimmy Fallon. 
Starting off light, with DMX's "X Gonna Give It to Ya" — accompanied by a raunchy dance routine — she followed that up with an obvious grand finale and everyone's karaoke go-to... "Colors of the Wind" from the Pocahontas soundtrack.
Her performance was so intense it necessitated wearing lab goggles to protect her from the arsenal of flying otters, herons, splashes of water, smoke and, of course, the colors of the wind (i.e., glitter and confetti).
Sure, Fallon made a valiant effort with the 1971 classic "Brand New Key," by Melanie, and Zayn Malik's "Pillow Talk"... replete with an actual pillow. But, unlike his guest, his didn't earn a standing ovation. 
Consider the mic dropped.