Samantha Bee Tears Apart Some of Ted Cruz's Most Horrifying Faith-Based Supporters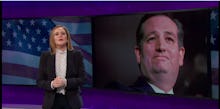 While it's disappointing to see Samantha Bee's brilliant Full Frontal off the airwaves for another week, there is a silver lining. For starters, Bee's late night show has been extended for the rest of 2016 on TBS — though it would've been an inexcusable move on TBS' part to do anything else. But even better, Bee treated loyal fans to a fresh clip from the show, posted on YouTube Monday, taking down Texas Sen. Ted Cruz's abhorrent faith-based supporters. 
Bee notes that Cruz — or, as she calls him, "Princeton's unwanted fetus" — has seen a surge in popularity lately, in part because he isn't GOP frontrunner Donald Trump (recent Cruz supporters like South Carolina Sen. Lindsey Graham have said as much). However, the several men of faith who have supported Cruz from the onset aren't an ideal supporter base, either. Take Colorado pastor Kevin Swanson, who Bee has mentioned before among Cruz's despicable fanbase. He believes "homosexuals are worthy of death," just as the bible stipulates, in his view. 
"Wow. For a guy who hates gay people, Swanson's got some fabulous dance moves," Bee said, before rewinding a clip of the pastor's flailing arms — which also makes for an entertaining GIF. 
Another supporter, Reverend Flip Benham, has been an anti-Muslim protestor as far back as 2010. "In your face Donald Trump, Ted Cruz supporters hated Muslims before it was cool," the host said. Finally, Bee brings up pastor Mike Bickle, whose anti-Semitic comments round out a versatile group of horrid supporters — all using their faith as a shield for their hateful, homophobic views. 
"And by the way, when Democrats start calling for the execution of gays and Muslims, I promise I will hit them just as hard," Bee said.
Check out the full clip from Full Frontal's YouTube page below. 
Read more: 'Full Frontal With Samantha Bee' Tackles Untested Rape Kits and Local Politics