'Patriots Day,' Movie About Boston Marathon Bombing, Cast, Release Date, Plot and More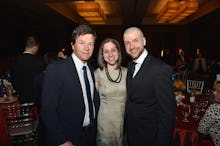 Michael Beach and Mark Wahlberg have joined the cast of director Peter Berg's (Friday Night Lights) film portrayal of the 2013 Boston Marathon bombing, according to Variety. Other cast members for Patriots Day, which is set to hit theaters Dec. 21, are Kevin Bacon, Themo Melikidze, Alex Wolff, James Colby, Jimmy O. Yang, J.K. Simmons, Michelle Monaghan, Vincent Curatola and John Goodman.
The movie revolves around Wahlberg's character, Sgt. Tommy Saunders, who's leading on the manhunt for the bombers, according to Variety, and the character is based off several real-life officers. Wolff and Melikidze will play the bombers Dzhokhar and Tamerlan Tsarnaev, the Wrap reported. 
The attack with homemade bombs on April 15, 2013, killed three people and wounded hundreds at the marathon's finish line. Tamerlan Tsarnaev died in a police shootout in Watertown, Massachusetts, a few days after. It wasn't until 2015 and after 11 hours of deciding that Dzhokhar Tsarnaev was found guilty on all 30 charges. He had pleaded not guilty.
Besides Patriots Day, the bombing is being immortalized through mediums like Finish Line, a play by the Boston Theater Co. that'll focus on those affected by the bombings, such as the first responders and survivors, according to the Associated Press. There's also another movie about the bombings in the works starring and produced by Jake Gyllenhaal called Stronger, based on the book by Jeff Bauman, who lost both legs in the bombings; Bauman been waiting at the finish line when the pressure-cooker bombs exploded, the Hollywood Reporter reported.
Read more: I Was At the Boston Marathon Bombing, This is My Story