Jodie Sweetin's 'Dancing With the Stars' Performance Was a Touching Tribute to Sobriety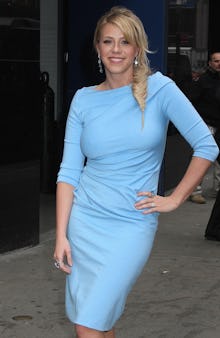 This week's theme on dance competition show Dancing With the Stars was honoring the contestants' most memorable years — and former Full House and now Fuller House actress Jodie Sweetin chose to reflect on her past year to honor her now five-year sobriety. 
"When the original Full House wrapped, I was 13 years old," she said on the show prior to her performance, according to E!. "It was a huge shift in my life. Everything that I'd known from the time I was 5 years old suddenly ended, and it was saying goodbye to a family that I loved very very much. At such a young age, it really was a huge loss for me that I didn't know how to grieve. Drugs and alcohol just sort of numbed everything. I was doing cocaine, and ecstasy, and alcohol, and all that."
"The darkest moments for me weren't necessarily ending up in the hospital and all that. It was those quiet moments alone when I'd just hated the person I'd become," she added.
But her performance celebrated how sobriety changed her life for the better. "I have been sober for five years now," she added. "Through my sobriety I can be happy with simple things now."  
Watch the full performance below or at E!.
Read more: 'Dancing With the Stars' Season 22: See 'Fuller House' Star Jodie Sweetin's Performance