Rolling Stones' New Album: 2016 Release Date Possible for Blues-Themed Music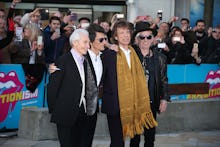 It's been over a decade since the Rolling Stones have released a studio album, but that might change as early as the end of this year. According to the Associated Press, who spoke to guitarist Ronnie Wood, the Rolling Stones group is planning a new album that is expected to be a mix of new material and blues covers. 
"We went in to cut some new songs, which we did," Wood said, according to the AP. "But we got on a blues streak. We cut 11 blues in two days. They are extremely great cover versions of Howlin' Wolf and Little Walter, among other blues people. But they really sound authentic." 
Read more: Watch Ed Sheeran Sing "Beast of Burden" Alongside The Rolling Stones Themselves
Most recently, the Stones performed a free concert in Cuba — a particularly important occasion given that rock music was banned from Cuban state TV and radio during the Cuban revolution. 
The group has released 22 studio albums since forming initially as a blues band in 1962, but have released few new songs since their 2005 album, A Bigger Bang. Aside from that, they created two new songs for their commemorative 50th anniversary album in 2012, GRRR!. However, they seem poised and impressed with the new material they've doled out in the studio so far.  
"When we heard them back after not hearing them for a couple of months, we were, 'Who's that? It's you,'" Wood said, according to the AP. "It sounded so authentic."