What Is Fentanyl? The Powerful Painkiller Causing a Spike in Overdoses in the US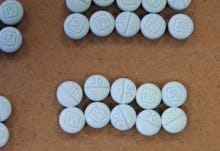 Since March 24, over 42 drug overdoses in Northern California were linked to one drug: fentanyl, Reuters reported. The drug is writing the next chapter in the opioid epidemic, as it sweeps across the nation from the East Coast to the West, according to the Los Angeles Times. 
Fentanyl also goes by the brand names Actin and Sublimaze, as well as the street names China girl, friend and TNT, according to the National Institute on Drug Abuse. It's an opioid, so it affects the brain's opiate receptors by driving up dopamine levels, giving users an extreme level of euphoria. 
However, it takes only a tiny amount to cause an overdose. Up-to-100 times more powerful than morphine, fentanyl is arguably "the most potent narcotic known," according to Reuters. It's sometimes prescribed to those with chronic pain, but is also cheap to produce and sell on the street.
Read more: Why Are Opioids Addictive? The Science Behind the Drugs
"We know of no other medication routinely used for a nonfatal condition that kills patients so frequently," wrote Dr. Tom Frieden, a director at the Centers for Disease Control and Prevention and a colleague in the New England Journal of Medicine, according to the Los Angeles Times. 
It only takes up to three minutes for the lungs to shut down because of a fentanyl overdose meaning the likelihood of death is high, another piece from the Los Angeles Times reported. 
Users can take fentanyl through injections, patches or orally. It has also been found laced to heroin or cocaine, as well as in counterfeit medication in Sacramento, California, Reuters reported. One of these pills can sell for as low as five dollars, the Los Angeles Times reported.
To treat an overdose, victims need several doses of naloxone, a drug that blocks opioids.  
In Ohio in 2014, a fentanyl epidemic was bursting at the seams. The Centers for Disease Control and Prevention found the most common overdose victim to a be white males on average of 38 years old with "some college education," according to the Los Angeles Times. Commonly, those victims also had mental health conditions like depression. 
Fentanyl paints a larger picture of the painkiller epidemic, which killed over 28,000 Americans in 2014, according to the Los Angeles Times. That was record breaking, but the number continues to rise.