"Invisible" Japanese Trains Will Blend Into Landscapes As New Yorkers Fight Subway Rats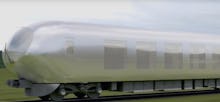 Japanese commuters will soon be relaxing in "living-room type settings" inside near-invisible trains that reflect surrounding landscapes — all while New Yorkers are still experiencing rat selfies, pizza rats and even cuddle-buddy rats in the city's subway system. Discovery News reported Monday that Japan's Red Arrow commuter train will see a major face-lift by 2018 when architect and designer Kazuyo Sejima redesigns several express-route trains with a unique look, to say the least.
"I would like it to be a limited express where large numbers of people can all relax in comfort, in their own way, like a living room, so that they think to themselves, 'I look forward to riding that train again,'" Sejima said in a press release. "The limited express travels in a variety of different sceneries, from the mountains of Chichibu to the middle of Tokyo, and I thought it would be good if the train could gently co-exist with this variety of scenery."
The trains will feature "rounded lines and a semi-reflective coating that acts like mirror," according to Sejima's initial rendering. Sejima will design the trains to commemorate the 100th anniversary for Seibu Group, the firm responsible for redesigning Japan's Red Arrow trains. 
GeoBeats News uploaded a render of the train to YouTube on Monday, detailing the futuristic design, which focuses on a sleek and understated aesthetic. 
"The new Seibu flagship train cars have an organic shape that is much different from the boxy New Red Arrow trains that currently run limited express services in the Tokyo area," Fast Company's Co.Design blog reported Friday. "Coupled with a semi-reflective skin designed to mirror the surrounding scenery, Sejima's train was designed with the stated goal to be as fun to watch blend into its surroundings as it is to ride."
Read more: New York City Bans Hoverboards on the Subway and We Can't Imagine Why