Hillary Clinton's Letter to Demi Lovato Thanks Singer for Standing up for LGBTQ Youth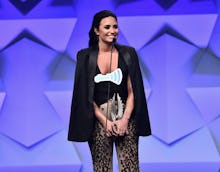 Before attending the GLAAD Media Awards on Saturday, Demi Lovato received a letter penned by presidential hopeful Hillary Clinton, according to an Instagram post by Lovato. The letter thanked Lovato for her work advocating for LGBTQ rights and congratulated her on receiving the Vanguard Award. 
"On behalf of open-hearted and open-minded Americans everywhere, I cannot thank you enough for using your celebrity to amplify the voices and stories of the LGBT community," Clinton wrote. "Through your music, you continue to empower young Americans to be themselves, to love themselves and to always believe in the power of kindness." 
The Vanguard Award is given to "media professionals who have made a significant difference in promoting equality and acceptance," according to a GLAAD press release. Lovato has been an ambassador for GLAAD, and has also participated in multiple LGBTQ pride events.
But other than speaking out for LGBTQ youth, Lovato has also advocated for Clinton's running in the 2016 race. "I'm so humbled that she has my back as I have hers," Lovato wrote in the caption of the Instagram post. 
That night, Lovato also performed her new track "Stone Cold," according to Entertainment Weekly. "This award means so much to me, more than any music award, because this is the real stuff," Lovato said while accepting the award.
Read more: 6 Celebrities Who Are Open About Their Mental Health