People Who Search for Donald Trump on Google Are Interested in These Five TV Shows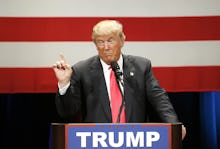 If you're Googling Donald Trump, you may also have some Saturday Night Live skits queued up to watch.
Read more: 11 Movies and TV Shows That Best Represent What 2015 Was
According to data provided by Google Trends, NBC's late night sketch comedy show is one of the most searched TV shows by users also looking up the Republican frontrunner. It's not the top, however, nor is Trump's former show The Apprentice, which sits at number two.
Those who searched for Trump also searched the most for Dancing With the Stars.
During the week of March 24 to 31, Trump seekers were also most interested in ABC's dancing-celebrities program. From a timing perspective, this makes sense: Dancing With the Stars kicked off its 22nd season on March 21. So Trump searchers who are also fans of the program were likely looking for information on how to vote, learning about the contestants and more.
Despite being relevant in the moment, however, Dancing With the Stars wasn't the most searched show for those also Googling Hillary Clinton. What topped her chart instead?
In the same time frame, Clinton seekers searched most for Saturday Night Live — even though the sketch show was on a mini-hiatus at the time. Its last episode aired March 12, and it didn't return until April 2. Perhaps Clinton supporters missed Kate McKinnon's expert impression during the time off?
Saturday Night Live also tops the chart of most searched by Bernie Sanders' Googlers. His chart is the most different, only sharing two shows in common with Clinton and Trump (who share four series in common). Sanders' chart is filled out with some interesting Netflix series: Canadian mockumentary comedy Trailer Park Boys and sitcom reboot Fuller House.
Only two shows appear on all three charts: the previously mentioned Saturday Night Live and HBO's fantasy epic Game of Thrones. The latter just goes to show that no matter which political party or candidate you're interested in, you just want to know what happens to Jon Snow.