Clinton and Obama Pushed the Trade Deal That Made the Panama Papers Scandal Possible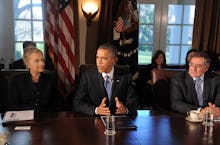 The Panama Papers may spell disaster for presidential candidate Hillary Clinton. As it turns out, the then-Secretary of State and President Barack Obama supported the trade deal that made the whole thing possible.
The papers consist of more than 11.5 million documents from the world's fourth biggest offshore law firm Mossack Fonseca, based in Panama, accounting for one of the largest document leaks in history. They were obtained by German newspaper Süddeutsche Zeitung — it subsequently shared them with the International Consortium of Investigative Journalists before they made their way to major news organizations like the BBC and the Guardian — and expose the shady dealings and tax evasion of the the world's richest.
Read more: The 11 Biggest Politicians Named in the Panama Papers Data Leak
Clinton and Obama supported the U.S.-Panama Trade Promotion Agreement, which came into effect in 2012 and facilitated many of the most outraging revelations from the Panama Papers, such as offshore accounts for huge corporations and tax loopholes for America's wealthiest.
To make matters worse for Clinton, Democratic presidential rival Bernie Sanders warned against the agreement in October 2011, in an impassioned speech on the Senate floor.
"Panama is a world leader when it comes to allowing wealthy Americans and large corporations to evade U.S. taxes by stashing their cash in offshore tax havens," Sanders said of the proposed agreement. "The Panama Free Trade Agreement would make this situation much worse."
Other major politicians have been implicated, such as Icelandic Prime Minister Sigmundur Davíð Gunnlaugsson. Although he initially said he would not leave office despite calls for his resignation, Gunnlaugsson stepped down Tuesday.
As for Clinton, some may argue the Panama Papers debacle underscores her position as the candidate of the establishment and elite, particularly in comparison to the populist Sanders.
April 5, 2016, 1:14 p.m.: This story has been updated.