How Did Kurt Cobain Die? Why Speculations of Murder Still Persist 22 Years Later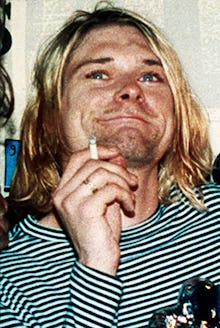 Kurt Cobain, lead singer of the grunge-rock band Nirvana known best for their hit "Smells Like Teen Spirit," died on April 5, 1994, at the age of 27. Cobain's body was found in his Seattle home with a shotgun, a gunshot wound in the head and a handwritten note. Cobain's death was officially ruled as a suicide by Washington's Department of Health, but many, both immediately at the time and now, speculate that Cobain's death was actually a homicide.
Read more: Here's How Twitter Is Remembering Kurt Cobain on the 22nd Anniversary of His Death
Retired private investigator and former detective Tom Grant is one of the more vocal theorists on Cobain's homicide. Grant was originally hired by Cobain's wife, Courtney Love, after Cobain was reported missing from rehab on April 1, 1994. Grant alleges that Love and Michael Dewitt, Cobain and Love's nanny for daughter Frances, were involved in Cobain's death. Grant's investigation inspired 2015's Soaked in Bleach, a docudrama that details Cobain's death, as well as the inconsistencies of the investigation reported by officials.
Still, many of Cobain's friends have accepted that Cobain committed suicide. Speaking to Rolling Stone in June 1994, Screaming Trees band member and longtime friend of Cobain's Mark Lanegan said he didn't hear from Cobain the week of his death. "Kurt hadn't called me. He hadn't called some other people. He hadn't called his family. He hadn't called anybody," Lanegan said. "[I had been] looking for [Kurt] for about a week before he was found. ... I had a feeling that something real bad had happened."
What about Love herself? According to David De Sola's book Alice in Chains: The Untold Story, published in August, Love had some lingering doubts on Cobain's suicide. 
A few weeks after Cobain's death, Jim Elmer [Layne Staley's stepfather] got a call from Courtney Love. She had been trying to get ahold of Layne and somehow got Elmer's phone number. According to him, they spoke twice. "The gist of the conversation was that she was looking for Layne because she knew Layne and Kurt were friends and wanted to find out what happened the last few days, that she intimated to me that she was not happy with the outcome that it was a suicide. She thought there was more to it than that, and she wanted to chase down Layne and have a discussion with him."