Here's How Twitter Is Remembering Kurt Cobain on the 22nd Anniversary of His Death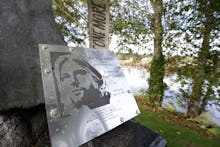 Kurt Cobain, the legendary rocker who headlined Nirvana, killed himself 22 years ago, on April 5, 1994. The police report from the scene had discovered that Cobain killed himself with a shotgun blast to the head, coupled with a heroin overdose. 
It's still one of the most tragic high-profile suicides in pop culture — and fans of Cobain leave flowers on a bench dedicated to the singer and guitarist every year. Notably, the emotional and thematic depth of his music is one of the most resonant aspects of his work. 
"Beneath the harsh guitars and spitting, often profanity-laced lyrics, Cobain had a deeply emotional, tender and even romantic side, something more evident than ever with the recent surfacing of his cover of 'And I Love Her' by the Beatles," Kinsey Lane Sullivan wrote for Mic in 2015. "He was also openly feminist, as his quotes on rape and the oppression of women show. When it came to his own songs, Cobain's stripped-down performances offer a unique perspective on one of the most basic, and necessary, human emotions." 
In the age of social media, fans have paid tribute in the form of tweets. Here's some of the best and most heartfelt.
Read more: Photos of the Shotgun Kurt Cobain Used to Kill Himself Appeared on Seattle Police Website