Beyoncé Lays to Rest "Formation" Video Controversy: "I Am Against Police Brutality"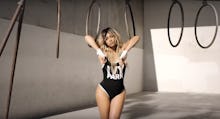 If "Formation" and its pro-black message and stance against police brutality made some people uncomfortable, Beyoncé is setting the record straight about her intent behind the song. The 34-year-old Houston native is unapologetically anti-police brutality, and she made that point abundantly clear in her latest work, as well as in a rare, candid interview with Elle, published Tuesday morning. 
Read more: "Formation" Lyrics: Meaning Behind Beyoncé's New Black Power Anthem
"Anyone who perceives my message as anti-police is completely mistaken," Beyoncé clarified, after outrage ensued online and within the New York Police Department following her Super Bowl 50 performance reflected the uniforms the Black Panthers once wore. 
I have so much admiration and respect for officers and the families of officers who sacrifice themselves to keep us safe. But let's be clear: I am against police brutality and injustice. Those are two separate things. If celebrating my roots and culture during Black History Month made anyone uncomfortable, those feelings were there long before a video and long before me.
"I'm proud of what we created and I'm proud to be a part of a conversation that is pushing things forward in a positive way," Beyoncé continued.
Beyoncé is turning a defining page in her career, transforming from a entertainer focused on never straying far from the script, into the outspoken artist, mother and woman her latest single "Formation" speaks to.
Racial injustice is one of the main focuses in her next project, which fans are clinging onto the edge of their seats (and weaves) for. 
Countless Beyoncé fans praise the singer for encompassing the textbook definition of female confidence, a boss mentality and maintaining total control of her voice, image and star power. That inner-confidence likely came from being continuously undermined by labels, and being forced to break the glass ceiling for herself. She said to Elle,
I'd say I discovered my power after the first Destiny's Child album. The label didn't really believe we were pop stars. They underestimated us, and because of that, they allowed us to write our own songs and write our own video treatments. It ended up being the best thing, because that's when I became an artist and took control. It wasn't a conscious thing. It was because we had a vision for ourselves and nobody really cared to ask us what our vision was. So we created it on our own, and once it was successful, I realized that we had the power to create whatever vision we wanted for ourselves. We didn't have to go through other writers or have the label create our launch plans—we had the power to create those things ourselves.
Check out Beyoncé's full interview with Elle here.