You Need to See This Incredible Video of Someone Making Tiny Donuts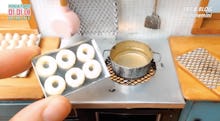 This video of someone delicately making teeny-tiny donuts in the smallest kitchen you can imagine is so totally twee you might just scream while you watch it. And then you'll probably watch it again — because something about watching disembodied hands prepare miniature food is weirdly addicting.
Read more: This Viral Video of a 106-Year-Old Black Woman Meeting the Obamas Will Melt Your Heart
The video comes from a YouTube account that specializes in "miniature cooking," and the giant hands take us through every step of making the tiny donuts, starting with measuring out the ingredients. Awww, look at that little sink!!
Then the dough gets rolled out with the LITTLEST ROLLING PIN. Seriously, it's adorable.
Honestly the best part might be the frying. The donuts are dropped into a tiny pot of oil that was heated up over a single tea candle. A CANDLE.
Of course the finished product is incredibly cute and also probably delicious, but you have to watch the whole video to really get the full effect. Seriously, watch it. And then watch it again. And again.