Your Birth Month May Predict the Kind of Allergies That Will Ruin Your Life Each Spring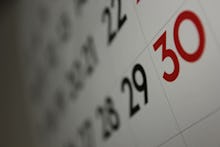 When you were born might not only determine your horoscope — it could also be a much less fun indicator of your susceptibility of developing certain allergies, a study published in March in the journal Allergy. That's because seasons affect different environmental factors that could affect pregnancies, according to Live Science. 
In the study, scientists first looked at the DNA markers of 367 participants throughout childhood until the age of 18, to see if a relationship between birth season, DNA and allergies (including hay fever, asthma and eczema) could be discerned. Then they compared those results to another pool of participants, Teen Vogue reported.
It turns out that the allergy "zodiac" cycle goes something like this: those born in autumn are more likely to develop eczema than those born in spring. Poor autumn babies, since they and winter babies will most likely have allergies and asthma.
Read more: Here's How to Combat Seasonal Allergies, So You Can Stop Sneezing and Start Living
"Because season of birth influences so many things, the epigenetic marks discovered in this study could also potentially be the mechanism for other seasonally influenced diseases and traits too, not just allergy," Gabrielle Lockett, one of the study's authors, said, according to Teen Vogue. 
Research has found birth seasons to be more telling than we think; it can also affect how tall someone is or their risk of schizophrenia, according to Live Science. 
No word yet on what happens to your allergies when Mercury goes into retrograde.