Zipline Drones Deliver Blood — And They're Saving Lives in Africa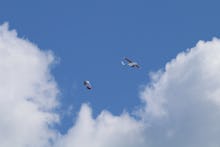 If a patient in Rwanda needs blood, they could be in trouble. If a hospital doesn't have the blood type they need, a health care worker has to drive up to three hours on a motorbike to the nearest blood center and back — a length of time that could be deadly for the patient. 
But what if that health care worker could order the blood by text message, instead — and 15 to 30 minutes later, have it delivered to the health center by drone?
This summer, it's becoming a reality.
Starting this July, Zipline will make between 50 and 150 daily blood drone deliveries to Rwanda's 21 transfusing facilities — giving health care workers the life-saving products they desperately need.
"When you have someone whose life is in danger and you don't have the product to save that person's life, it is an incredibly demoralizing and scary experience," Zipline CEO Keller Rinaudo said in a phone interview.
How do they work?
Cell networks are crucial. To summon one of its drones, a health care professional needs to send a text message to the system. With a shoddy network, the system becomes dysfunctional. 
Rwanda signed a $140 million deal with Korea Telecom in 2013, which spurred the rollout of 4G LTE internet to 95% of Rwandan citizens over the course of three years, Wired reported. 
The timing for Zipline's fleet of autonomous electric airplanes couldn't align more perfectly with the rollout of these high-speed networks throughout Rwanda. The cell networks work "incredibly well" in all of the Zipline's coverage areas — they're on par with the networks used in the U.S., Rinaudo said.
But getting a drone to deliver blood takes more than good cell networks.
"A lot of people have seen companies or organizations take a quadcopter and fly a kilometer in perfect weather to deliver a candy bar and thought, 'Oh, drone delivery is possible,'" Rinaudo said. "In reality, that is a long way from a system that can save thousands of lives with hundreds of deliveries a day."
Those hobbyist quadcopters often can't fly for more than eight minutes at a time. They need perfect weather and fail unpredictably. 
So Zipline designed a system from scratch. Its vehicle, called Zip, weighs 10 kilograms, flies autonomously, can carry 1.5 kilograms of cargo and can travel over 120 kilometers on a single charge. Zip can also fly in really bad rain and wind. 
"People don't wait to have a medical emergency until the weather is good," Rinaudo said. 
Bringing Zipline Beyond Rwanda
Zipline is currently in talks with other developed economy health care systems with the same challenges faced in Rwanda. It plans to expand its medical deliveries across Africa and the world, as well as move beyond blood to also include vaccines, treatments for HIV/AIDS, malaria and tuberculosis. 
"There's no part of this world where this wouldn't be helpful," Rinaudo said. 
For now there are competitors, but Rinaudo said he'd love to see more people following Zipline's lead. After all, it's a huge market, with lots of work to be done.
There could be obstacles — but that's OK. There is a "0% chance" it'll go off without a hitch, Rinaudo said. "There are always unexpected things that can occur." Still, Rinaudo is confident.
"I'm absolutely sure that the system will be able to ultimately handle all blood deliveries for the country," he said. "That's how we've designed it."