The Real Michael Jordan Got the #CryingJordan Treatment at the NCAA Championship Game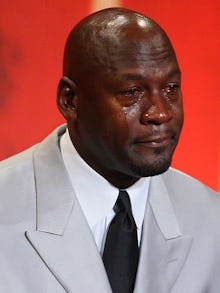 In a spectacularly meta Twitter moment, basketball legend Michael Jordan was subjected to his own meme, the "Crying Jordan" face, on Monday night. The 53-year-old retired player attended the NCAA National Championship basketball game between his alma mater's North Carolina Tar Heels and the Villanova Wildcats. 
One of the most entertaining college basketball championship games in recent memory, Jordan's Tar Heels lost at the buzzer, due to a three-point desperation shot from Kris Jenkins, 77 to 74. The internet went wild with the Crying Jordan meme, taking much delight in the fact that the former Chicago Bulls star was in attendance for the most important game in college basketball. 
Read more: Michael Jordan Named to Forbes' Billionaires List for Second Year in a Row
But where does the meme come from? The Crying Jordan face originates from Jordan's induction speech at the Naismith Memorial Basketball Hall of Fame in 2009. During the speech, a moment in which tears flowed from Jordan was captured by Associated Press Photographer Stephan Savoia.
"I just did some Google searches after I read your email and have not been able to stop laughing," Savoia told the Wall Street Journal in a statement when asked about his now-legendary photo.
Apparently, his Airness is privy to his face being used as a meme all over the internet, even though Jordan doesn't use social media.
"I don't recall when we first started noticing it — everything explodes so quickly on the internet, and suddenly it was everywhere," Estee Portnoy, a spokesperson for Michael Jordan, told the Chicago Tribune. "Everyone seems to be having fun with the meme, and it just keeps going. We haven't seen anyone using it to promote their commercial interests, which is something that we're monitoring."
In 2015, the former basketball player donated the $8.9 million he won from a lawsuit to 23 charities based in Chicago, where he'd spent most of his basketball career in the '90s.