'Unbreakable Kimmy Schmidt' Season 2 on Netflix: Cast, Release Date and What to Expect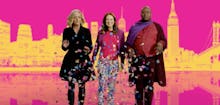 The second season of the off-kilter Netflix original series Unbreakable Kimmy Schmidt hits the streaming service on April 15. Ellie Kemper returns as the former cult captive Kimmy Schmidt, as do her roommates Titus Andromedon (Tituss Burgess), landlord Lillian Kaushtupper (Carol Kane) and sort-of friend Jacqueline Voorhees (Jane Krakowski). 
"All these characters are great because they're all sort of cartoons," Kemper said to the Wall Street Journal. "But they're humans. Weirdly, and this is where the magic trick comes in — the characters grow. There's character development, setbacks, and self-discovery. It's like, 'How are you doing that, you're cartoony?'"
Read more: 'Unbreakable Kimmy Schmidt' Shines Through Its Own Darkness
Although audiences loved the show's first season for its fresh comedic angles and diverse cast, they also criticized it for also reinforcing several racial stereotypes. The new season takes these characters and their developments (race and all) on full throttle, giving themselves more dimension, according to a review by Indiewire. 
One such character is Voorhees, who will earn herself a major storyline that actually delves into her Native American background, Indiewire reported. At the end of the first season, she decided to return home to learn more about her roots, a battle she's been fighting since her adolescence.
Dong Nguyen (Ki Hong Lee), Schmidt's first season love interest, might also be sticking around. "Dong is not entirely out of her life," Fey said, according to Popsugar. Last season, Dong was criticized for being a total trope, such as being good at math, but he was also uncommonly a white lead's love interest.
Audiences should also prepare to encounter an impressive run of guest stars, including Fred Armisen, David Cross, Jeff Goldblum, Anna Camp, Zosia Mamet, Amy Sedaris, Evan Jonigkeit and Tina Fey, according to Buzzfeed.