New York Science Buff Augusta Uwamanzu-Nna Gets Into All 8 Ivy League Schools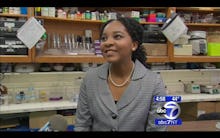 Augusta Uwamanzu-Nna, class valedictorian at Elmont Memorial High School in New York, just learned she has been accepted into all eight Ivy League colleges and universities — Harvard, Yale, Princeton, Columbia, Cornell, University of Pennsylvania, Dartmouth and Brown — for the incoming class of 2020.
With a GPA of 101.6, one could think Uwamanzu-Nna simply sailed through high school, but they would be mistaken. ABC 7's N.J. Burkett writes that for Uwamanzu-Nna, "there are no secrets and no shortcuts to academic success." Instead, she credited "tenacity and persistence" to her accomplishments.
Read more: Student Writes Admissions Essay About Costco Hot Dogs; Gets Accepted by Stanford, 5 Ivies
Born to Nigerian immigrants, Uwamanzu-Nna was taught from a very young age to have a respect for education. "Though I was born here in America, I visited Nigeria many times and I've seen that my cousins don't have the same opportunities that I have," Uwamanzu-Nna told Burkett. "Whatever I do, I want to make sure that it has an impact on Nigeria."
Uwamanzu-Nna is already making headway into her altruistic endeavors; the passionate science buff was among the 40 finalists for Intel's Science Talent Search, where students are selected to compete in "the nation's most prestigious precollege science competition." Uwamanzu-Nna's project was titled "Rheological Characterization of Attapulgite Nanoclay Modified Cement Slurries for Oil Well Cementing Applications." 
Michelle Flannory, her research adviser, told Burkett that Uwamanzu-Nna was indeed "naturally talented," but also actively "pursues excellence" and uses constructive criticism to her benefit.
Though Uwamanzu-Nna's more-than-perfect GPA is impressive, there have been less than perfect grades in the past; when Burkett asked her about the lowest grade she ever received, Uwamanzu-Nna remained reticent.
"I've struggled with numerous classes in the past but I guess what allowed me to be successful, ultimately, in those classes, at the end, is my persistence and my tenacity," Uwamanzu-Nna said, remaining humble despite her accomplishments, even though she could easily be all like... 
h/t People