2016 Wisconsin Republican Primary: Ted Cruz Demolishes Donald Trump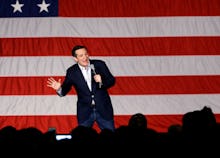 Donald Trump says he can win the Republican nomination for president — but Ted Cruz isn't going down without a fight.
Cruz overwhelmingly defeated Trump in Wisconsin's GOP primary Tuesday, according to an Associated Press race call at 9:32 p.m.
The commanding victory wasn't unexpected, but it could still add fresh energy to Cruz's drive to topple Trump.
Cruz strongly emphasized his Wisconsin win as a turning point in the bitter contest — and another sign that he's the man who can truly unite a fractured GOP.
Read more: Millennial and Minority Voters in Wisconsin Face Huge Obstacles at the Polls
"Four very different states: Utah, Colorado, North Dakota, Wisconsin. Four victories. So just how significant is tonight? Well, just today our campaign has raised over $2 million ... We've had over 1.5 million contributions," Cruz told his fans at a Milwaukee victory party.
"In the last two weeks, and in the coming days, when Colorado and Wyoming finish voting, we are likely to have gained over 100 delegates on Donald Trump."
Team Trump opted for a sharply worded statement over a primary night speech.
The Trump campaign snarked that:
"Not only was [Cruz] propelled by the anti-Trump Super PAC's spending countless millions of dollars on false advertising against Mr. Trump, but he was coordinating `with his own Super PAC's (which is illegal) who totally control him. Ted Cruz is worse than a puppet--- he is a Trojan horse, being used by the party bosses attempting to steal the nomination from Mr. Trump."
Going into the primary, Cruz led Trump by five to 10 points in a battery of polls going back to mid-March and compiled by RealClearPolitics.
Trump's tough week: The frontrunner had a bumpy stretch heading into the Wisconsin fight. He backpedaled on having said women should be punished for having abortions, and dealt with charges against his campaign manager, Corey Lewandowski, for allegedly manhandling a reporter.
The Texas senator, who's been trying to set himself out as the true conservative in the fight, also got the backing of Wisconsin Gov. Scott Walker, who abandoned his own campaign for the nomination in September — a scant two months after filing the paperwork to become the then-15th Republican running.
While Walker's presidential star didn't shine for long, his pull among conservative voters in his state gave Cruz a boost.
Exit polls showed Cruz picking up support among Wisconsin evangelical voters, Fox News reported: "Fifty-three percent said they were supporting Cruz, while 35 percent were going for Trump. Just 11 percent said they back Ohio Gov. John Kasich."
Independents were siding with Trump over Cruz 43% to 38%, however.
Overall, the electorate in Wisconsin — which has an open primary, meaning voters of any party can participate — also trended less conservative than other early voting states, CNN noted.
More bad news for Trump from the exit polls, per The Atlantic:
Only 40 percent of voters are excited by the idea of President Trump, and more than half the population thinks he's run the most unfair campaign, compared to 25 percent for Ted Cruz and 10 percent for John Kasich. Indeed, there appears to be deep unease about the New York billionaire: 40 percent of voters say they're "scared" of what Trump would do in office, and a similar proportion are in favor of a contested convention.
What's more, Trump's hardcore rhetoric on immigration may have worked in his favor among GOP voters elsewhere, but could have played differently in the Badger State, where fewer than one in 10 Republicans called the issue a top concern, exit polling showed.
The delegate duel: Wisconsin has a total of 42 delegates.
Coming into Tuesday's primary, according to a RealClearPolitics tally, Trump had 737 delegates to 481 for Cruz and 143 for underdog John Kasich.
Trump is trying to get to the 1,237 delegates he needs to win the contest outright, but Republicans are bracing for a contested convention at which the nominee could be chosen in a floor fight.
The next big contest is the April 19 New York primary.