Bill Nye Says Climate Change Denial Is "Running Out of Steam," Thanks to Millennials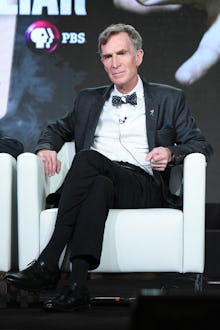 Famed science educator Bill Nye has long been an outspoken critic of people who continue to doubt climate change, the main driver of freaky weather patterns, rising global temperatures and sea level rise around the globe. In an interview with Mic, Nye said that despite lingering skepticisms, there is nearly 100% scientific consensus that climate change is happening and is here to stay — and people are becoming increasingly anxious about its effects on the planet, particularly younger generations. 
"Almost every person in denial about climate change is older," Nye said Monday. "It's very hard to find a millennial-aged person that is not concerned about climate change. ... I think the climate denial movement is running out of steam, I guess that's a pun."
Read more: Bill Nye Wants to Bring NASCAR Into the Future, One Fossil Fuel-Free Car at a Time
That generational divide is partly the reason Nye, who helmed the children's educational television series Bill Nye The Science Guy for six years in the mid-1990s, has targeted millennials in a new effort to promote the United States' national parks. The National Park Service is celebrating its centennial this year with its Find Your Park movement, which encourages people to find which of the 410 national parks across the U.S. is right in their backyard — and Nye has come on as its "ambassador." 
Climate change is arguably the biggest threat to park preservation; rising annual temperatures have already led to drought in Wyoming's Yellowstone National Park, melting glaciers in Montana's Glacier National Park and drastic changes to vegetation in Idaho's City of Rocks National Reserve, according to a 2014 study titled "Climate Exposure of U.S. National Parks in a New Era of Change."
"Glacier National Park is rapidly becoming No Glacier National Park, Mudslide National Park, Former Beautiful Place National Park," Nye said. "That's because of the warming of the world."
Nye wants younger voters to understand the significance of their voting power in the fight against climate change. "We want the National Parks to be here another 100 years and 100 years after that," Nye said, pointing out that voters have the power to elect government officials who take notice of climate change. "I really want people to take the environment into account when they vote."
Nye would appear a good fit for the job of promoting national park health. He has regularly appeared on Fox News to debate and/or debunk those who reject mainstream climate science, and even recalled a bet he made with former congressional staffer Marc Morano over the timeline of extreme global warming.
"I offered to bet him $10,000 that 2016 will be one of the hottest [of the top 10 hottest] years ever recorded in the modern era, in the last couple centuries," Nye said. "I offered him $10,000 for 2010-2020, this decade, to be the hottest decade ever recorded. He would not take either bet. He's not confident in either bet, because he knows better." 
Nye said combatting climate change would involve moving North Americans toward renewable forms of energy, like wind, solar and geothermal, and away from fossil fuel dependence. 
Nye also mentioned that this election year will play a huge role in combating climate change. "I really don't want a climate change denier at the head of the U.S. executive branch of government," Nye said. "Nobody in the world wants that." He said if those who are on the side of the "extreme doubt movement" decide to change their mind, they will be embraced.
When asked if he would ever consider running for president of the United States, Nye said, "I don't have right now any plans to run for president, thank you though."