Netflix's 'The Ranch' Feels Like a Network Sitcom: Just Add F-Bombs and Conservative Jokes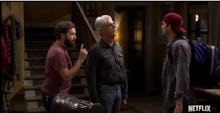 There might not be as many sitcoms as there were even a decade ago, but the formulaic representations are still prevalent on network television. Notably, The Big Bang Theory is still churning out seasons, and Two and a Half Men ended its run a mere year ago. They use similar sitcom tropes: a laugh track, recurring character catchphrases and a static group of settings.
In many ways, Netflix's latest comedy series, The Ranch, is a network sitcom in all but fact. There's a laugh track, and almost every scene takes place on the titular ranch or the small town's local dive bar. There aren't catchphrases; instead, the series' two brother characters repeatedly hit each other in the crotch. 
Yet The Ranch is a unique concept within a traditional sitcom space. That's a good thing — mostly.
Read more: What Is 'The Ranch' About? Netflix's New Series Features Familiar Sitcom Faces
As its name suggests, The Ranch takes place on a ranch, providing contrast to the metropolitan settings of the biggest sitcoms of the past 20 years: Seinfeld, Friends and How I Met Your Mother, to name a few. In very rural Colorado, the Bennett family faces problems that might not seem relatable on the surface. A ranch losing money with burgeoning droughts and a declining economy isn't exactly a universal conflict like "We were on a break."
Yet at its core, The Ranch deals with empathetic family issues that traverse the physical framework. A son, Colt (Ashton Kutcher), returns home after a failed semipro football career to help carry the fleeting family business. His older brother, Rooster (Danny Masterson), worries that his brother's return will carry him out of the spotlight after supporting his father, Beau (Sam Elliott), for the past 15 years. Furthermore, estranged wife Maggie (Debra Winger) wants to stay with her husband, but also values her independence. 
It's heavy stuff, and The Ranch at times struggles to balance emotionally heavy issues with the slapstick humor it craves. Some of the jokes land well. Colt's playboy antics offer up some good laughs, like when he admits he was as shocked as his girlfriend when her surprise 18th birthday party occurred. Other times, it repeats the same gag until it no longer packs a punch — such as Beau's constant belittling of Colt for not directly following his masculine ideals. Colt has expensive jeans and wears Ugg boots, the shame!
But by not shying away from the deeper themes of the narrative, The Ranch is able to explore a demographic rarely touched upon in television that isn't self-deprecating: the working class conservative. For the Bennett family, the opening day of hunting season is a long-held tradition, President Barack Obama's birth certificate is a sore subject and the family says a prayer before every meal. 
The Ranch doesn't belittle conservatives. Rather, it shows its audience — many of which might not follow the same political ideals — a fresh perspective on why they hold these values. Like the lovably stoic Ron Swanson (Nick Offerman) in Parks and Recreation, you can agree to disagree with their views and admire the complex characters underneath. 
"Unlike the immensely popular red-state sitcom masquerading as a reality show, Duck Dynasty, The Ranch's dog-whistling to conservatives never becomes a bigoted shriek," Willa Paskin wrote for Slate. 
Sitcom tropes aside, the series isn't afraid to remind its audience that it's a Netflix show, with inherently fewer limitations than a network series. It constantly stretches over 30 minutes, characters casually curse and there are occasional moments of nudity. If you've been wanting to see Kutcher's butt, this is your chance. 
Netflix has doled out other sitcoms with ranging success: the smart Tina Fey comedy Unbreakable Kimmy Schmidt and the Full House reboot Fuller House. It hasn't figured out the perfect sitcom formula, as The Ranch proves, but Netflix's lineup is so diverse at this point that nothing yet feels off-brand. It can experiment for a bit.
The already released 10 episodes of The Ranch show signs of a sitcom that's tooled to compete with its network television counterparts. Whether its distinct backdrop and conservative values are a hit with its audience is still up in the air — and will continue to be if Netflix keeps locking its ratings behind closed doors.