Abortion Providers Saw 94 Threats in 2015 — 93 More than 2014 — Says New Report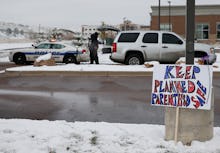 On November 27, Robert L. Dear opened fire in a Planned Parenthood clinic in Colorado Springs, Colorado, killing three and injuring nine others. In case there was any ambiguity, in an interview Dear later made it clear that the shooting was motivated by his extreme pro-life beliefs.
The tragedy shined a light on the risks abortion providers face every day, as well as the people visiting clinics like Planned Parenthood (usually for check-ups and health care unrelated to abortions). But while November's shooting may have been singular in its violence against abortion providers, new data shows it was far from an isolated incident.
According to the National Abortion Federation's April report, 2015 saw 94 threats to abortion providers. In 2014, there was just one.
Read more: We Spoke to Children of Abortion Providers About Growing Up in a Climate of Fear
Anti-abortion activists, says the report, slammed abortion providers with "a documented and unprecedented increase in hate speech" following doctored videos edited to suggest Planned Parenthood employees were selling fetal tissue for a profit. However, only specific threats were counted in the data.
"Following the videos, one member received a voicemail that said someone planned to, 'pull a Columbine and wipe everyone out' and an unknown male called a hospital switchboard in North Carolina saying, 'We will kill all [hospital] abortion doctors,'" the report said.
Some extremists made good on their threats, setting fire to facilities in Washington, Louisiana, California and Illinois. One individual broke into a New Hampshire clinic with a hatchet, destroying and flooding it. Reports of suspicious packages and hoax devices increased four-fold.
"We cannot continue to allow anti-abortion extremists to use violence to advance their own personal, political agendas," the report said. "We cannot be silent or ignore this dangerous, unacceptable and often criminal behavior."
h/t Guardian