2016 Wisconsin Democratic Primary: Bernie Sanders Defeats Hillary Clinton by a Mile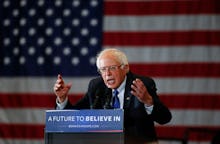 Bernie Sanders defeated Democratic presidential frontrunner Hillary Clinton in the Wisconsin primary on Tuesday, underscoring his staying power as a tribune of the progressive left.
The Associated Press called the race for Sanders at 9:44 p.m. Early exit polls showed him with a double-digit lead over Clinton.
Though the result doesn't upend the fundamental dynamics of the Democratic contest, in which Clinton has built a large delegate lead, it points to the desire of many Democratic voters for the spirited primary contest to continue, even as much of the party establishment clamors for unity behind Clinton.
The Vermont senator's victory comes a little more than a week after he handily defeated Clinton in contests in Hawaii, Alaska and Washington. His win also comes on the heels of the news that in March, Sanders — powered by small donors — out-fundraised Clinton for the third month in a row.
The road ahead: On Saturday, Sanders is likely to notch yet another win in the Wyoming caucuses, but his great hope is that his winning streak delivers crucial momentum heading into the New York primary on April 19.
Polls show Clinton's lead over Sanders shrinking in her adoptive home state, and while she'd retain a healthy delegate lead even if she lost the Empire State narrowly, a loss would mark a humiliating blow for her campaign, and may raise doubts among Democratic elites about the strength of her candidacy.
At any rate, the Democratic contest is virtually certain to continue through the final nominating contests in early June. Sanders has pledged to remain in the race until voters in each state and territory have had their say, and Tuesday's result bolsters his case for doing just that.