Sarah Palin Responds to Azealia Banks' Gang-Rape Comments, Makes Unfortunate Typo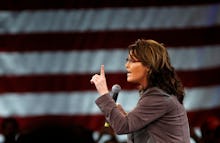 It would appear Sarah Palin isn't exactly sure of what the word "condoning" means. The former Republican candidate for vice president made an unfortunate gaffe on Tuesday in her response to rapper Azealia Banks saying she should be gang-raped by black men, saying the two should work together instead of tearing each other apart, all for the goodness of "condoning racism."
"Hey Female Rapper — listen up, little darling," is how Palin began a Facebook post Tuesday. "No one has any idea what you're wigging out about in these bizarre, violent rants against me, but you're obviously not exercising enough intelligence to acknowledge you've been sucked into believing some fake interview in which I supposedly offered comments representing the antithesis of my truth."
Read more: Azealia Banks Says Sarah Palin Should Be Gang-Raped By Black Men, Locked in a Cupboard
And then things got good: "Why don't we strengthen both our platforms and work together on something worthwhile — like condoning racism, along with empowering young women to defend themselves against a most misogynist, degrading, devastating assault perpetrated by evil men — rape."
Unfortunately, Palin's valid point was masked with an obvious typo. A simple Google search of the word "condoning" might have helped Palin in her thumbs-too-quick moment. Palin has since changed the word to "condemning," which certainly seems much safer and in-line with the message she was attempting to pen for Banks. 
However, even without any typos, Banks' statements regarding Palin were incomparably vile — even for her. 
"Sarah Palin needs to have her hair shaved off to a buzz cut, get headfucked by a big, veiny, ashy, black dick, then be locked in a cupboard," Banks tweeted. "Hideous. At least suck a nigga dick or something before you start talking shit about 'black people willingly accepting slavery.' Least she can do."
Still, Palin managed to end her post with a slight mix of wit and shade: "Now I'll go through my young daughter's playlist to make sure there hasn't been any inadvertent addition of any anti-woman, pro-rape garbage that you seem to endorse, which perpetuates the cultural challenges we face in America. I encourage other parents to do the same," Palin wrote. "God bless you Ms. Banks, as you consider a change of heart."
Banks, to her credit, seemed to take take Palin's words to heart and issued her a lengthy apology on her Tumblr Tuesday, saying Palin has "a certain 'je ne sais quoi.'" 
"I sincerely apologize for any emotional distress or reputational scarring i may have caused you," Banks wrote.
April 5, 2016 5:53 p.m. Eastern: This post has been updated to include an apology Azealia Banks issued to Sarah Palin.