See the Powerful Moment When This Mom Hears Her Son's Heartbeat in a Stranger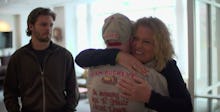 Lisa Swanson lost her son Levi Shulz when he was killed in a car accident near their North Dakota home as a teenager in 2012, according to ABC News, but this week she had the chance to hear Levi's heart beating again — in the body of a stranger.
Read: Watch the Heartwarming Moment a Teen Girl Reunited With the Soldier Who Saved Her Life
After Levi's death, 64-year-old Terry Hooper received Levi's heart in a transplant. To celebrate National Donate Life Month, Hooper and Swanson met for the first time so she could listen to her son's heartbeat. The meeting was emotional from the start: Hooper showed up wearing a shirt with a photo of Levi on it. "He's my hero," he told Swanson through tears. "There's not a day I don't think of him. You have no idea."
Swanson couldn't hold back her own tears as she listened to the sound of her son's heart beating in Hooper's chest. "I get happiness and sadness all at the same time," she said. "Sad that my son's not here, but happy that he was able to help Terry."
An average of 22 people a day die waiting for organ transplants, according to the U.S. Department of Health and Human Services. Every 10 minutes, someone new is added to the waiting list.