Preacher Shreds Quran, Wants to Burn Down Phoenix Mosque and Build a 7-11 Instead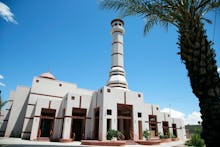 Yes, there's a great need for more 7-11s in the world, but this hardly seems the way to go. 
On Monday afternoon, anti-Muslim protesters outside the Islamic Community Center of Phoenix clashed with local residents. The protesters were angry that the mosque was, well, just being a mosque. 
Read more: Armed New Black Panther Members Protected a Dallas Mosque From Anti-Muslim Group
"You got a mosque right here and you're not doing anything about it," self-proclaimed Christian street preacher Ruben Israel said to a man with whom he was arguing, local affiliate KPNX reported. Israel traveled from Los Angeles to Phoenix to protest the mosque. 
"I hope when Trump gets into office he turns this wicked building into a 7-11," Israel roared through a bullhorn.  
"Muslim religion is tearing down America," another protester, Aden Rusfeldt, said to KPNX. 
This particular mosque has a history of attracting anti-Muslim protesters. In May, protesters orchestrated a "Draw Mohammed" contest outside the mosque. Drawing the prophet Mohammed is prohibited for Muslims. 
Islamophobia and anti-mosque violence is currently at a high in the United States. Members of the New Black Panther Party recently had to offer help to a Dallas mosque that was facing armed protesters.
Late 2015 brought a string of anti-mosque attacks nationwide and abroad, as well. Anti-Muslim vandals wrapped a Las Vegas mosque's doors with bacon, people stuffed severed pigs' heads into toilets in Pennsylvania and Western Australia. It all added up to the worst year for anti-mosque violence on record. 
Though Israel clearly represents a minority of Americans, Usama Shami, president of the Islamic Community Center, said to KPNX that his tactics are definitely intended to intimidate worshipers. 
However, Israel says it's just a matter of free speech. 
"We're trying to say keep it on the sidewalk, exercise free speech," Israel said to KPNX. "It's our free speech to take their holy book and rip it like this." 
Israel proceeded to rip a page from the Quran. "We can do this," he said.