PayPal Protests North Carolina's Anti-LGBT Law, Cancels Plans to Hire 400 People In State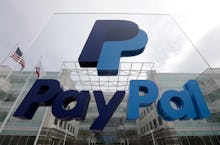 Online payment giant PayPal has shelved plans to hire some 400 employees in North Carolina in protest of the passage of a recent "religious freedom" law critics say legalize discrimination against transgender people, TechCrunch reports.
North Carolina's law, which struck down all LGBT anti-discrimination ordinances in the state, requires transgender people to use gendered bathrooms according to the biological sex listed on their birth certificate, and strips state workers of their right to sue under state anti-discrimination laws, passed in March. The ACLU alleges the new law "violates the most basic guarantees of equal treatment and the U.S. Constitution."
Read more: Google Maps Is Helping North Carolina's Trans Population Find Safe Bathrooms
PayPal is just one of several companies to speak out against this and other similar bills. The NBA implied it was reconsidering plans to hold its 2017 All-Star Weekend in Charlotte. And in Georgia, Salesforce CEO Marc Benioff threatened to pull a 15,000-person marketing convention out of the state before Gov. Nathan Deal went ahead with his veto of a similar piece of discriminatory legislation.
But PayPal's opposition runs even harder, with the company canceling plans for an entire 400-person global operations center in Charlotte. Instead, the company will be looking to locate the branch elsewhere.
"The new law perpetuates discrimination and it violates the values and principles that are at the core of PayPal's mission and culture," PayPal CEO Dan Schulman wrote in a statement. "As a result, PayPal will not move forward with our planned expansion into Charlotte."
"Our decision is a clear and unambiguous one," he added. "But we do regret that we will not have the opportunity to be a part of the Charlotte community and to count as colleagues the skilled and talented people of the region. As a company that is committed to the principle that everyone deserves to live without fear of discrimination simply for being who they are, becoming an employer in North Carolina, where members of our teams will not have equal rights under the law, is simply untenable."
A $20 million pharmaceutical manufacturing center, a 100-person production project from Lionsgate and the one of the world's largest furniture conventions are other major projects that might end up getting yanked from the state due to the law.