Taylor Swift Will Soon Have a BMI Award Named After Her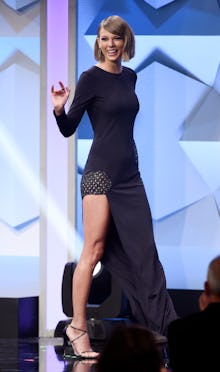 Fans have been looking for the "next Michael Jackson" ever since he died in 2009. However, few likely could have ever predicted Taylor Swift would be the one to take up his mantle.
Read more: Watch Taylor Swift Fall Down Trying to Rap Drake and Future
Tuesday, Broadcast Music, Inc., a United States-based music rights organization, announced that this year, it will name a new award for the pop star. The only other time the organization has done so was in 1990, when it did the same for Michael Jackson. It seems that for BMI, the king of pop's crown has transferred to a queen.
The award sums up Swift's years of accolades and achievements. She was the youngest recipient to ever win a Grammy for album of the year, earning the honor in 2010. Six years later she became the only female to win the honor twice. She's also the only artist to have three albums break a million sales in their first weeks, with Speak Now, Red and 1989.
"Taylor Swift has transformed pop culture through her songs, artistry and indomitable spirit," Barbara Cane, BMI's vice president of writer/publisher relations, said in a post explaining the decision on the company's website. "She has had a profound impact, not only musically, but also through her personal conviction and commitment to create a standard that values and respects music for everyone. We felt it appropriate to award Taylor with an honor that is as unique and special as she is."
Whether any of Swift's special albums live up to the majesty that is Thriller is another story. But that is one for the blogosphere to decide — in BMI's history books, Swift and Jackson's names will sit side by side.