This Mother Did a Photoshoot Breastfeeding Her 2 Daughters and the Images Are Beautiful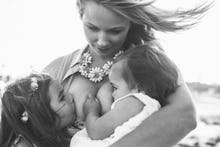 A photoshoot of a mother breastfeeding her two small children is going viral. Chelsea Craig, the mother in the images, is shown breastfeeding her two daughters, Addy and Emilynn, in photos taken by professional maternity photographer Mae Burke. 
The 28-year-old mother enjoyed the images Burke took. "I look at the expressions on my girls' faces and my expressions towards them, and it's a feeling that I get," Craig told People. "[Mae] put feelings into images. I told her, 'I want you to get us living life, and what it feels like for me to be their mother.' When I saw the pictures, it was just that." 
Read more: Mothers Staged a Breastfeeding Sit-in After a Nursing Mom Was Asked to Leave a Food Court
Burke is a mother of three children, and started her photography career in a unique way. "I thought breastfeeding photography could be a way to separate me from the masses of photographers in Fort Worth," the photographer told Buzzfeed News.
While the pictures make a statement about the hotly contested topic of public breastfeeding, Craig does not consider herself someone that wants to force others to accept her views on breastfeeding.
"I'm very confident in the decision that this is what's right for us," the mother told People. "I consider myself a supporter of women's rights and the choices that we make as moms. For some, that's breastfeeding until the kid is 7, for some that's breastfeeding until the kid is 2 weeks, for some it's not breastfeeding at all, and that's okay with me."
In February, several breastfeeding mothers held a protest at a food court in Australia, when a woman was told to leave for publicly breastfeeding her child.