Source in 'Rolling Stone' UVA Rape Article, "Jackie," Must Testify, Court Rules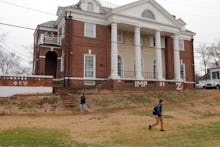 A court has ruled "Jackie," the pseudonymous woman who said in an infamously discredited Rolling Stone article that she was gang raped by University of Virginia fraternity members, must testify in a defamation suit against the magazine, the New York Times reported.
Read more: How These Detroit Women Took on a Rape Kit Testing Backlog
Lawyers for both Rolling Stone and UVA dean Nicole P. Eramo, the plaintiff in the case who alleges the article inaccurately portrayed her role in the college's handling of the matter, will reportedly be able to question Jackie in court. 
The lawsuit asks for nearly $8 million in damages. A lawyer for Eramo told the Times in a statement that the article "[portrayed] Dean Eramo as a callous administrator who discouraged Jackie from reporting an assault to police, when, in fact, Dean Eramo took Jackie to the police, and it appears that Jackie knew that her tale of rape would not have stood up under real scrutiny and investigation."
According to CNN Money, Jackie will be deposed on Thursday. CNN also reported Jackie's attorneys fought the move to force her to testify, saying it could result in "extreme psychological" distress and "irreparable harm."