Nicola Griffin's Lingerie Shoot for 'Slink' Magazine Proves She's an Ageless Wonder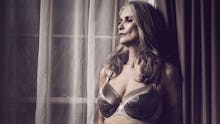 Nicola Griffin proves that beauty is ageless. The 56-year-old British model recently graced the pages of Slink magazine, the sole fashion magazine in existence that caters to a "plus-size" readership, posing in lingerie to make a point about body image for the mag's younger audience. 
Read more: What the First Model With Down Syndrome in a Beauty Campaign Wants You to Know
"Young girls open magazines and it influences them so much about body image," she told interviewer Perelanda Beedles. "I particularly think it's very good for them to see different sized women because otherwise they can feel bad about themselves if they don't look like the models they are constantly viewing."
This isn't the first time Griffin has shown skin in a major magazine. In February, she became the oldest woman ever to appear in Sports Illustrated's Swimsuit Issue with her swimsuitsforall ad, in which she donned a bright gold bikini. Griffin's modeling career launched when she appeared in an ad campaign for White Hot Hair, the Telegraph reported. She joins a growing group of older-than-average models — including Jacky O'Shaughnessy, 64, who featured in American Apparel underwear ads — making strides in the fashion industry. 
"I think for me maybe it comes with age because when you get to 56 you don't know how long you have got left in the world and this is how you look so embrace it," Griffin told Beedles. "I've been young, I've been worried, I've been under pressure, I've felt all those things and I don't want to feel them anymore so I just don't," she added.
Griffin's message is one people of all ages should keep in mind — there's no one best body. But because the pressure to look like a model is real, it's all the more exciting and important to have models who look like Griffin to remind us that beauty extends beyond age 20 and a size 4. 
h/t PopSugar