2016 Wisconsin Primary Results: Live Updates on the Democratic and Republican Races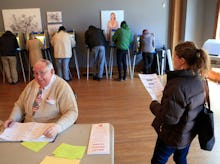 Wisconsin voters headed to the polls on Tuesday in primary contests that may deal setbacks to the two parties' presidential frontrunners, Donald Trump and Hillary Clinton.
With challengers Ted Cruz and Bernie Sanders leading in most polls ahead of the vote, the Badger State is seen as a must-win for both candidates. Victories by Trump and Clinton would all but foreclose any feasible path to blocking their nominations.
Read more:
Polls close in the state at 9 p.m. Eastern. Follow along as Mic keeps tabs on the night's latest developments.
10:45 p.m. We'll leave you with Trump's eminently gracious statement about Cruz's victory.
Here's a statement from the Trump campaign. Good night! — Stefan Becket
Donald J. Trump withstood the onslaught of the establishment yet again. Lyin' Ted Cruz had the Governor of Wisconsin, many conservative talk radio show hosts, and the entire party apparatus behind him. Not only was he propelled by the anti-Trump Super PAC's spending countless millions of dollars on false advertising against Mr. Trump, but he was coordinating `with his own Super PAC's (which is illegal) who totally control him. Ted Cruz is worse than a puppet — he is a Trojan horse, being used by the party bosses attempting to steal the nomination from Mr. Trump. We have total confidence that Mr. Trump will go on to win in New York, where he holds a substantial lead in all the polls, and beyond. Mr. Trump is the only candidate who can secure the delegates needed to win the Republican nomination and ultimately defeat Hillary Clinton, or whomever is the Democratic nominee, in order to Make America Great Again.
10:24 p.m.: Sanders thanks supporters in Wyoming.
Stumping in Laramie, Wyoming, ahead of that state's caucuses on Saturday, Sanders hailed his campaign's progress and proclaimed that he had the momentum heading into the race's final contests.
"Momentum is starting this campaign 11 months ago and the media determining that we were a fringe candidacy. Momentum is starting a campaign 50, 60 points behind Secretary Clinton. Momentum is in the last couple of weeks, there have been a number of national polls that have had us one point up or one point down," the senator said.
"With our victory tonight in Wisconsin we have now won seven out of the last eight caucuses and primaries," he added. "And we have won almost all of them with overwhelming, landslide numbers."
Hailing his campaign as a grassroots-driven effort, an invigorated Sanders effusively thanked his supporters, with a special emphasis on the millennial voters who have overwhelmingly backed him over Clinton.
"Young people all over this country are standing up and saying, 'You know what, we want to help determine the future of this country,'" he said. — Luke Brinker
10:13 p.m.: Clinton congratulates Sanders.
With no public appearances on her schedule for the evening, Clinton took to Twitter to congratulate Sanders on his victory, thanking her supporters and looking ahead to the later contests. — Luke Brinker
10:13 p.m.: Cruz delivers a victory speech.
The GOP victor went heavy on themes of unity in his primary night speech in Milwaukee.
"I ask you at home to join us as we continue to unite Republicans and Independents and Libertarians and Reagan Democrats and Americans who care about our future who want jobs, freedom and security, just as we've done in Wisconsin," he told fans at a victory rally.
Cruz told supporters his campaign raised more than $2 million on Tuesday alone, signaling a surge of excitement about his candidacy, and "When Colorado and Wyoming finish voting, we are likely to have gained over 100 delegates on Donald Trump."
The Texan also brought his wife, Heidi, up on stage and said she'd be a great first lady. The Cruz and Trump camps have exchanged barbs over a PAC-funded ad featuring Trump's wife, Melania. — Celeste Katz
9:45 p.m.: Sanders defeats Clinton.
The AP called the Democratic primary for the Vermont senator at 9:44 p.m. — Luke Brinker
9:44 p.m.: No speech from Trump tonight.
The Washington Post's Robert Costa reports that Trump won't speak tonight, but will rather focus on moving past Wisconsin and on to New York and California:
Trump is holding an event on Long Island on Wednesday. — Stefan Becket
9:40 p.m.: The youth vote.
With a new voter ID law in place for the first time in Wisconsin history, many young voters faced some serious hurdles when trying to make it to the polls today. But large numbers were undeterred. — Zeeshan Aleem
9:33 p.m.: Cruz wins.
The Associated Press called the GOP race for the Texan at 9:32 p.m.:
— Luke Brinker
9:25 p.m.: Clinton is attending a fundraiser hosted by a chemical, not oil and gas, executive.
Correcting her previous tweet, the Times' Chozick clarified that Clinton is actually attending a fundraiser hosted by a chemical industry executive, not an oil and gas one. — Luke Brinker
9:20 p.m.: Sanders wins whites handily and splits the Latino vote with Clinton.
Exit polls show that Sanders beat Clinton among white voters 52% to 42%. Among nonwhite voters, who constituted less than 20% of Democratic voters, Clinton fared much better. She beat Sanders among black voters 70% to 30%, and basically tied with Sanders among Latino voters, 49% to 50%.
The usual generational gap between Sanders and Clinton supporters emerged in full force. Sanders dominated with young voters, beating Clinton 86% to 14% among voters between the age of 17 and 29, and 58% to 42% for those between 30 and 44. Clinton performed much more strongly among older voters, outstripping Sanders 60% to 39% among 45 to 64 year olds, and 70% to 29% among voters 65 and older.
Sanders fared significantly better among men than Clinton, winning them 53% to 45%. Clinton locked up 55% of women, 10 points more than Sanders' 45%. — Zeeshan Aleem
9:16 p.m.: Wisconsinites jammed the polls in record numbers, according to the Associated Press.
Officials projected the turnout as the highest since 1980 for a presidential primary.
"[State Elections Board] spokesman Mike Haas says clerks around the state had reported a busy pace but manageable lines throughout the day," the AP reported. "The state is holding just its second election since voters were required to show photo identification, and Haas says his office hadn't heard of any major issues." — Celeste Katz
9:15 p.m.: Clinton is spending the evening at a fundraiser hosted by an energy executive.
Preparing for an expected loss in Wisconsin, the former secretary of state will not appear publicly tonight, but will instead be at a Bronx, New York, fundraiser hosted by an energy executive, reports the New York Times' Amy Chozick.
The fundraiser comes just days after Clinton angrily blasted the Sanders campaign for "lying" about her donations from fossil fuel-linked donors. — Luke Brinker
8:17 p.m.: More on the racial breakdown in Wisconsin.
According to ABC's preliminary exit poll analysis, the Democratic electorate voting on Tuesday is heavily white — over 80% of voters showing up are white, and about one in 10 voters are black. Wisconsin's Democratic voters are a less diverse lot than we've seen in most contests so far — on average, white voters make up about 60% of the electorate, and black voters constitute over a quarter of it.
If the usual demographic voting trends hold, this bodes well for Sanders. On average, Sanders has an edge over Clinton among white voters, while Clinton fares far better than him among nonwhite voters. — Zeeshan Aleem
8:00 p.m.: Exit polls look good for Cruz and Sanders.
Hoping for upsets? You're likely to be disappointed.
Exit poll results point to a good night for both Cruz and Sanders, dovetailing with pre-primary polls.
Two-thirds of Wisconsin Democratic primary voters described themselves as liberal, up from 62% in 2008, when then-Sen. Barack Obama handily defeated Clinton. Meanwhile, whites account for more than 80% of the Democratic turnout. Both findings point to a pro-Sanders electorate.
On the GOP side, six in 10 voters said they'd be excited or optimistic to see Cruz win, compared with roughly five in 10 who said the same of Ohio Gov. John Kasich and only four in 10 who said so for Trump. — Luke Brinker