Condom Company Matches Tinder Users With STI in Controversial Public Health Campaign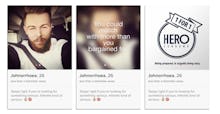 Australian condom maker Hero's new campaign may have done more to raise eyebrows than it did sexual health awareness.
The company was behind a number of STI-themed Tinder profiles making the rounds down under. Over the last week, unsuspecting Aussies going through their options on the dating app had the opportunity to swipe left (hopefully) on such charming profiles like "Johnorrhoea," "Gonorrheeta" and "Aydes."
"Swipe right if you're looking for something serious. Infertile kind of serious," a smoldering Johnorrhoea tells potential mates. "I'm 0.7 microns tall. Good thing I come in small packages," says Gonorrheeta. "I love adventure: long walks down the urethra or full moon prostate parties. Did somebody say shots." Her profile then ends with two syringe emojis.
The campaign didn't shy away from even the most sensitive subjects, with one profile joking:
"Knock knock."
"Who's there?" 
"AIDS ????"
"Both Sexually Transmitted Infections and HIV are on the rise and with some reported to be the highest they have ever been right now in Australia," Hero explained on its website. "We set in motion a campaign concept that would allow us to reach youth on a 1 to 1 basis and to remind those that may not be using condoms, that they should play it safe when out there in the world of dating."
But the company came under fire almost immediately from advocates who found the campaign a poor — and demeaning — representation of reality.
"[Hero] clearly has zero understanding of what it's like to live with, and be judged for having, an STI or a chronic manageable illness like HIV," Nich Holas, an Australian activist living with HIV, told BuzzFeed. "We're not the butt of their jokes and we're sure as hell not collateral damage in their pursuit of profits."
The company, which stakes an ethical and socially conscious public image, donates a condom to a developing country for every condom sold. According to Hero, the campaign ran from March 30 to April 4. The company acknowledged the criticism on Facebook. 
"We have carefully listened and noted all social media feedback and are liaising with leading community experts to help ensure we effectively achieve our objective of improving sexual health," wrote CEO Dustin Leonard.