What Is Feyoncé? Beyoncé Sues Engagement Announcement Apparel Shop For Confusing Her Fans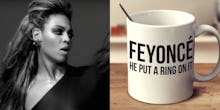 If you liked it, then you should have put a ring on it — and made sure that rock isn't a knockoff. That's what Beyoncé is telling Feyoncé after suing the site for "brazenly" selling shirts, sweatshirts and tank tops nearly identical to her own merch, but with an F, Reuters reported Tuesday. The site features pictures of happy couples excitedly showing off engagement rings, as well as a mug for sale which reads: "Feyoncé. He put a ring on it."
Go ahead, say "Feyoncé" out loud, and it all becomes clear: ingenious wordsmiths put together an engagement announcement site while taking cues from everyone's favorite megastar's critical 2009 hit "Single Ladies." 
Beyoncé, who's readying the release of her sixth solo album, filed the complaint in a Manhattan federal court. Her lawyers noted, "Defendants adopted the Feyoncé mark to call to mind Beyoncé and her famous song. Defendants' conduct described herein is intentional, fraudulent, malicious, willful and wanton."
Reuters also reported multiple requests from Beyoncé to three individuals behind the site to shut down the sale of their products bearing an uncanny resemblance to her trademarked name went ignored. In fact, Beyoncé's complaint even states one of the defendants has applied for two Feyoncé trademarks: one with the accent at the end, one without. 
But you don't ignore Beyoncé.
The "Formation" singer noted the incident has caused her irreparable harm, as well as confusion among fans, and is seeking unspecified damages. Looks like someone won't be going to Red Lobster anytime soon.