Blac Chyna Just Made Taking Her Husband's Name Look Like a Feminist Act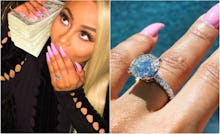 The definition of feminism in 2016 is rife with contradictions. Women are encouraged to embrace their sexuality and bodies, but that isn't easy when slut-shaming and restrictive feminine beauty ideals still reign. Women are told to lean in at work, all while traditional standards of marriage and motherhood hang over their heads. 
Nobody embodies these contradictions more than Blac Chyna, née Angela White. 
Blac Chyna's engagement to Rob Kardashian lit up the internet this week. The pairing is controversial partly because they've only been dating for two months, but also because Chyna used to be engaged to Tyga, with whom she has a son named King Cairo. Tyga is currently dating Rob's sister Kylie Jenner. (As the internet pointed out, that means, "King Cairo's mom and dad double as his aunt and uncle.") 
Given Chyna's poor relationship with Tyga and her contentious standoffs with Jenner, she's firmly established as Kardashian/Jenner Enemy #1; Jenner allegedly cut Rob off entirely because of his and Chyna's relationship.
All of that has made her engagement to Rob Kardashian (complete with public declarations of love, stacks of money and a #7carat ring broadcast on Instagram) seem like a brazen "fuck you" to the Kardashian/Jenner clan — and has turned her into a polarizing symbol of feminine wiles. She's been called every old-school sexist female stereotype in the book: conniving, petty, vengeful, gold-digging, unapologetically attention-seeking.
It's a wholly retrograde depiction — and yet the actions that prompted it are arguably Blac Chyna's feminism on full display.
Chyna fits right into Amber Rose's brand of sex-positive feminism, one that finds empowerment in sexiness and pushes back against slut-shaming (as Rose and Chyna did with these anti-slut-shaming outfits at the VMAs). She also happens to be a successful professional woman who seems to have leaned the fuck in, rising up from music video semi-fame to start her own booming business.
Now she's pursuing a relationship on her own terms, unapologetically forgoing tradition and ignoring criticism to be with a man she loves (and/or to exact revenge on the Kardashian/Jenner family, either one, really). In so, doing her biggest "power move" of all ironically rests on one of the most archaic, arguably anti-feminist traditions: adopting her husband's name.
Chyna raises the question that's asked of pretty much every female celebrity today: What — and who — counts as "feminist" today? 
It's a thorny question, and one that's ultimately impossible to answer. We respect women who carve out empowered, independent identities for themselves, who sit in the driver's seats of their own lives. But we expect them to do that in a world still ruled by retrograde and sexist norms when it comes to sex, beauty, family and work. 
It's a world where exuberant celebrations of social and cultural "rights," like the right to have casual sex, can overshadow women's persistent lack of legal and economic rights, as well as systemic structures in the workplace and family that hold them back.
Blac Chyna is making powerhouse moves — offending sensibilities, eschewing tradition, pursuing a relationship she wants even if it invites disapproval — as the empowered, give-no-shits feminist she is. If the ultimate display of that feminist muscle is to take on her husband's infamous surname as her own, well, that's just the world we live in.