Amber Rose's SlutWalk 2016 Is Expanding to Fight Rape Culture on Both Coasts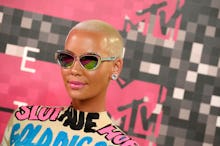 As Amber Rose continues to transform from the once-elusive model into a multifaceted businesswoman, her voice on a number of issues grows, too. The mother and socialite has taken on slut-shaming and rape culture with her SlutWalk, an event calling for equality in how society perceives women, their bodies and their sexuality, telling Rap-Up she's expanding the Amber Rose SlutWalk this year to multiple cities and is happy with what it's accomplished. 
"Just bringing awareness to rape culture, victimizing, double standards, slut-shaming," Rose told the publication at the launch of her MuvaMoji emoji app in Hollywood. "I feel like, as women, we deal with that every single day, and a lot of people just don't understand."
"It's an extreme form of bullying, especially slut-shaming," Rose continued. "I really felt like I brought a lot of awareness to it because now rappers are apologizing for calling girls hos. So, I think it's just really cool."
This isn't the first time Amber Rose has advocated for the awareness of rape culture, and the tendency for society to ignore such problems by blaming victims. "If I'm laying down with a man, butt-naked, and his condom is on, and I say, 'you know what, no, I don't wanna do this. I changed my mind,' that means no," Rose said during an interview on Tyrese Gibson and Rev. Run's talk show It's Not You, It's Men in February. "That means fucking no, that's it. It doesn't matter how far I take it or what I have on. When I say no, it means no."
After both talk show hosts continued to assert women bring on unwarranted harassment through their own fault, with Gibson saying "the comfortability that some people find in wanting to touch or grope you...it's an energy that's being sent out," and Rev. Run saying, "I heard a quote, you know, 'dress how you want to be addressed," Rose was forced to explain herself once more.
"That's not realistic, stop it," Rose said. "If I want to wear a short-skirt, or a tank top, and I'm at the club having fun with my friends and I feel sexy, I'm not DTF ... I'm not mad at y'all, because that's how society raised all of us. I'm a former slut-shamer, I've called women 'ho's' a million times."
Now, Rose is advocating it's never too late for anyone to turn the page in their own lives, giving women the respect and allowing them the freedom to live as openly and sexually as men can without judgement. The 32-year-old also told Rap-Up she plans on expanding her SlutWalk this year to both Los Angeles and Brooklyn. 
"It's gonna be way bigger, way better, more controversial," Rose told the publication. "You guys know, I don't give a fuck. I speak my mind and it's gonna be really O.D. this year. I'm looking forward to it."
Check out the full interview here. 
h/t Rap-Up