Bernie Sanders Had a Big Win in the 2016 Wisconsin Primary — But It Still Wasn't Enough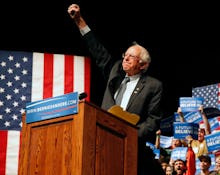 Following his 13-point rout of Hillary Clinton in Wisconsin on Tuesday, Bernie Sanders has now won six of the past seven Democratic presidential nominating contests, with an average victory margin of 37 percentage points.
He's still on course to lose the party's nomination.
The cold, hard math: Heading into Tuesday night, polls showed Sanders a slight favorite to prevail in the Badger State, with the RealClearPolitics polling average giving him a 48% to 45% lead over Clinton.
Read more: 2016 Wisconsin Democratic Primary: Bernie Sanders Defeats Hillary Clinton by a Mile
Given the state's demographics and the delegate math, those were actually pretty dismal figures for Sanders, who needed 66% of the remaining delegates up for grabs to secure the nomination.
But Sanders far outperformed his polls, besting Clinton 56.5% to 43.2%.
Yet even that robust performance left the Vermont senator short of his delegate target. According to the New York Times' tally, Sanders has won 47 of Wisconsin's pledged delegates to Clinton's 36, with another three yet to be allocated. Even if Sanders won those last three, he'll only have nabbed 58% of the delegates at stake on Tuesday.
So where does that leave the overall delegate race? Including superdelegates, Clinton now leads Sanders 1,784 to 1,105. It takes 2,383 delegates to secure the nomination.
Looking forward: Sanders hopes that his momentum coming out of Wisconsin will propel him to victory in the major contests ahead, with New York's April 19 primary looming as the next big prize.
But while Sanders has narrowed the gap with Clinton in the Empire State, which she represented for eight years in the U.S. Senate, she holds 53.5% to 42.5% edge in the RealClearPolitics average. Those numbers suggest that while a Sanders upset is far from impossible, his best hope is a narrow victory — but even a slight win wouldn't fundamentally alter the delegate math.
Still, a Clinton loss in her adoptive home state could foster growing doubts about her candidacy among party elites. And if Sanders were to follow up a New York victory with a win in delegate-rich Pennsylvania on April 26, unease could transform into full-blown panic — with many superdelegates, who are free to change their votes, potentially re-evaluating their support for Clinton.
A Quinnipiac University poll released Wednesday showed Sanders within striking distance of Clinton in the Keystone State, garnering 44% support to her 50%.
But if Sanders wants to set Clinton's nightmare scenario in motion, he can't afford to wake up to more headlines like Wednesday's New York Daily News front page, which hit the senator on his gun control record:
Welcome to New York, Bernie.