5 Companies to Support if You Believe in Transgender Rights in the United States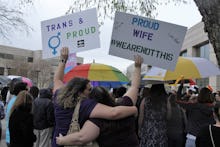 Skip Foreman/AP
When North Carolina Gov. Pat McCrory passed a law in March that discriminates against the transgender community, activists did not take the news lightly.
Here's what the law does:
1. Prohibits anyone from using a public restroom not designated for their sex assigned at birth.
2. Makes it impossible for cities to pass anti-discrimination laws.
The transgender community and supporters responded with marches and viral protests on social media. 
But they aren't the only ones protesting. 
Several major companies have cancelled business in the state since. Here are five examples.
PayPal 
Company action: On Tuesday, online payment giant PayPal cancelled its plan to hire 400 people in the state in light of the recent law. 
Its statement: "The new law perpetuates discrimination and it violates the values and principles that are at the core of PayPal's mission and culture," the company wrote in a statement. "As a result, PayPal will not move forward with our planned expansion into Charlotte."
Lionsgate
Company action: In March, entertainment company Lionsgate decided to pull production of its new Hulu show Crushed from Charlotte and film in Canada instead. 
Its statement: "We will be hard-pressed to continue our relationship with North Carolina if this regressive law remains on the books," the statement read.
NBA
Company action: The day after McCrory passed the scathing law, the NBA, which is supposed to hold its 2017 All-Star Game in Charlotte, released a statement suggesting it's reconsidering the location of the game.
Its statement: "We are deeply concerned that this discriminatory law runs counter to our guiding principles of equality and mutual respect and do not yet know what impact it will have on our ability to successfully host the 2017 All-Star Game in Charlotte," the statement read.
Braeburn Pharmaceuticals 
Company action: New Jersey-based pharmaceutical company Braeburn was planning to build a $20 million manufacturing and research facility in the ninth-largest state that would create 50 new jobs paying on average nearly $76,000 per year, but said it's "reevaluating our options based on the recent, unjust legislation."
Its statement: "Braeburn Pharmaceuticals believes in fair treatment and equality for all individuals in their communities. We oppose any legislation that discriminates against the LGBT community," the statement read.
And Over 100 Other Companies 
Starbucks, Apple, Google, Twitter and Facebook are just several of more than 100 companies whose executives signed a letter in March asking North Carolina to repeal the discriminatory law. The letter, orchestrated by Human Rights Campaign and Equality NC, was delivered straight to McCrory. 
Their statement: "We believe that HB 2 will make it far more challenging for businesses across the state to recruit and retain the nation's best and brightest workers and attract the most talented students from across the nation," the letter read. "It will also diminish the state's draw as a destination for tourism, new businesses and economic activity."
Welcome to 2016, North Carolina.