Phife Dawg's Posthumous "Nutshell" Video Brings Together Hip-Hop's Finest in Tribute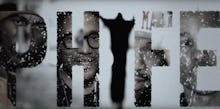 Before Phife Dawg's untimely death in March, he was working on an album that would be "basically my life story," as he told Rolling Stone. Without him here to spit his joyous, street-wise rhymes, the likelihood of seeing that project in its full glory is sorely diminished. However, we still can hear him sum up his life in a "Nutshell."
Read more: Remembering Phife Dawg's Life and Rise to Hip-Hop Royalty in His Own Words
The organizers of the Celebration of Phife memorial event Tuesday night at Harlem's Apollo Theater, which also included featured by André 3000, Kanye West and D'Angelo, debuted a video for a new Phife Dawg single "Nutshell." Produced by the legendary J Dilla, the song proves Phife was still at the top of his lyrical game right up until the end. 
The video features spoken cameos from some of hip-hop's legends. "Phife in a nutshell?" Ali Shaheed Muhammad from a Tribe Called Quest says. "Direct like a missile." The Wu-Tang-affiliated Redman, Pos and Dave from De La Soul and Mike G from the Jungle Brothers also offer parting words.
The track is available to download on iTunes. Fifty percent of proceeds will go to support the American Diabetes Association and the National Kidney Foundation.