Cleveland Indians Fan Apologizes to Native American Activist After Viral "Red Face" Photo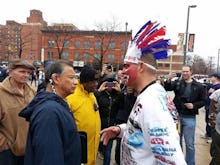 Baseball is back, which means the return of great American pastimes like Sunday afternoon ballgames, peanuts, Cracker Jack... and racism:
But this year, something is different. The photo above, showing Cleveland Indians fan Pedro Rodriguez (right) confronting American Indian Movement activist Robert Roche (left) outside the ironically named Progressive Field in 2014 is back in the news — only this time, the story has a happy ending.
According to Indian Country Today Media Network, Rodriguez apologized to Roche on Monday for his ugly display two years back. "He approached me and apologized," Roche told the media network. "It shocked me. I never expected [that]. He said he was an avid fan, but he was sorry and he understood where I was coming from now."
Rodriguez had previously claimed he "was honoring Roche" by wearing the headdress and face paint, but has since changed his tune, ICTMN reported. Local indigenous activist Bee Schrull captured Monday's apology in a photo:
The incident comes amid an intensifying debate about racism and professional sports mascots. The NFL's Washington Redskins have long been at the center of the discussion, with activists on one side claiming the mascot is racist and fans on the other arguing that changing it would be a slap in the face to the team's legacy.
Baseball is no stranger to the debate, either. The Cleveland Indians' Chief Wahoo — a cartoonish caricature of a Native American — has been criticized for years, with some fans even going so far as to rip the offensive logo off their Cleveland paraphernalia when they go to games. 
The practice is known as "de-Chiefing" and has become emblematic of the tension between people wanting to support their team but not wanting to support, you know, racism.
In this context, Rodriguez's apology can be read as part of an encouraging personal evolution. Too bad the Cleveland Indians organization — which has been de-emphasizing the logo's prominence for some time now — still has yet to follow suit.