A German Casino Had a Bomb Scare Over What Turned Out to Be a Penis Ring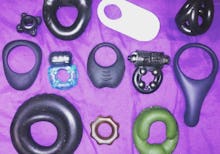 A police bomb squad rushed to a gambling hall in what turned out to be a bomb scare in the German town of Halberstadt in the state of Saxony-Anhalt Tuesday night, according to Agence France-Presse. An employee had reported an unidentified vibrating noise emitting from the metal trash bin in the men's restroom.
In an unexpected turn of events, the source of the humming ended up being a penis ring vibrating on its highest setting, the Telegraph reported. By then, police had evacuated about 90 people from the area and closed off the street, according to AFP. 
Read more: 8 Facts Put the Biggest Myths About Sex Toys to Bed
Police are still carrying out an investigation into the unexpected event. "It's not clear who left the device there, but whoever it was certainly did so intentionally," Chief Inspector Peter Hartmann said, according to the Telegraph.