'Game of Thrones' Star Maisie Williams' Thoughts on Feminism Show She Should Rule Westeros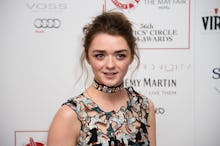 Get the five stories that will challenge you to rethink the world by signing up for MicCheck Daily.
The fictitious world of Westeros in HBO's Game of Thrones is filled with powerful female characters — some imposing forces, like Cersei Lannister, others sword-wielding knights, like Brienne of Tarth. Of course, any conversation about the great female characters on Game of Thrones can't forget to mention Arya Stark, one of the last remaining members of her honorable family and a certified badass. 
Maisie Williams — who plays Arya on the show — is pretty cool, too, and had some reflective remarks about feminism during an interview with Entertainment Weekly. The actress wasn't familiar with the term "feminist" when she was first asked about it, assuming everybody had the mindset that people should be treated equally, regardless of gender. Now 18, she doesn't think we should use the term to describe people. Rather, that's what all human beings should be — well, unless you're sexist. 
"I also feel like we should stop calling feminists 'feminists' and just start calling people who aren't feminist 'sexist' — and then everyone else is just a human," Williams told Entertainment Weekly. "You are either a normal person or a sexist." 
Williams also addressed the controversies with female violence on the show, which took its darkest and most controversial turn last season when Arya's sister, Sansa Stark, was raped in a scene that did not involve her character in the books that the series is based off of. 
"It's always been a constant debate because women are treated badly on the show, and they're treated well on the show," Williams said. "But it's the same as the boys and the girls and the men and the animals. The themes are very dark." 
Naturally, she also commented on the forthcoming sixth season of Thrones, which premieres on April 24, suggesting fans might not be pleased with all the narrative turns. "They're going to hate it, but love it, and I can't wait." However, as long as we find out what actually happened to Jon Snow, it's a start. 
Read more: Emilia Clarke Addresses Critics Who Say 'Game of Thrones' Is Sexist
h/t: Entertainment Weekly